Bachelorette Party Entertainment Ideas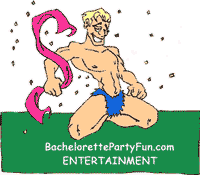 The most important feature of the bachelorette party, besides good company and location, is entertainment.

There are so many ways to plan a great party and entertainment selections have widened with more venues, restaurants, shows and more!

We have listed some of the more popular and unique entertainment ideas below, along with our favorite links, to give you all the information you will ever need to throw an awesome Last Night Out!



Bachelorette Budgeting Tips - How to save money and have as close to a free party as possible.


Bachelorette Party Supplies - Suggestions and ideas for your party supplies.


Bachelorette party itinerary - Helpful info for planning the ultimate last night out.


Co-ed bachelor party - If you are planning a coed-party, we have great information for hosting the event.


Lean and Green section - If you are on a budget and environmentally conscious, check these economical ideas.


Bachelorette party entertainment ideas - Check out our wonderful seasonal tips.


Bachelorette party safety - Click here to learn more about having a safe last-night-out.


Bachelorette party tips - For planning a perfect event, check out these great ideas.


Bachelorette Party Healthy Entertainment - For those of you planning a health-conscious affair.


Bachelorette Party Drinking Tips - How to drink in style and still remain in control.


Bachelorette Party Hangover Cure Tips - Let us help you restore your normalcy after a night of big drinking.


Bachelor-etiquette - A must read if you are looking for the best in how to act during the party.


Bachelorette Party Definition - A brief history of the meaning of a "bachelorette party".


Bachelorette Party Prepping - What to do in the pre-show prep.

This page brought to you by Monteal VIP



Entertainment Idea of the Month: Spring Bachelorette Party
Planning a Spring fling bachelorette fiesta is a wonderful time since the weather is much nicer and it is almost time for bikinis to come back out. During this season, mix in some great bachelorette party games into the festivities which makes for a memorable last night out. Dress the bachelorette as a playboy Easter bunny and have everyone wear a uniform color which makes for a great bachelorette party theme. There are lots of great bachelorette party venues, so plan early as Spring is the start of the bachelorette party planning season. More Ideas
Strip Bars & Strippers

- For more adult entertainment, a male review can be a great experience with the girls. Remember to have the girls sign the Oath of Secrecy before walking into the club or enjoying home entertainment.
Our Top Male Review/Strip Sites:
Thunder from Down Under (NV)
Stripper For You (Nationwide)
TopHat Entertainers (NJ & NY)
Michigan Entertainment (MI)
The Hollywood Arena (Los Angeles, CA)
Sin City Strippers (NV)
Latin Men (CA)
Hunk-O-Mania

(NY)

Men of Sapphire (NV)
New Jersey Strippers (NJ)
New England Male Strippers (MA-RI)
Florida Male Strippers (FL)
Gold Coast Entertainment (FL)
Strippers For You (Nationwide)
American Storm (NV)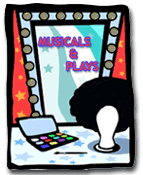 MUSICALS & PLAYS
A new popular attraction for the bachelorette party is to start off for a few drinks and then see a popular musical or play.
The nice thing about going to see musicals and plays is that when the entertainment is over, you can go out on the town for more fun! Click Here to see some of our favorite musicals and plays.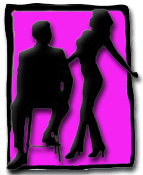 EXOTIC DANCE & POLE DANCING LESSONS
If you are looking for something that is unique and entertaining for the Bachelorette Party, gather everyone together and schedule a night out at a Pole Dancing Class or Exotic Dance lessons from the experts. It is amazing how much fun a girls night out is at one of these events, and we have collected some of the the finest nationwide companies & teachers to help make your search easier!
Carmen Electra maybe one of the first who made this new form of dance popular and it has continued to be a Bachelorette Party favorite for one of the non-typical nights out. Make it a first stop destination and then get ready to hit up some bars and clubs and try out your new found talents!! This is one of those parties that the "guys' are happy to have their partners attend!! What used to just be found just in Las Vegas, has now made its way to tons of other cities and locations, so check this one out!

Click here for Exotic Dance Lesson and Pole Dance Listings or choose from the exotic dance lesson schools in your area and if you are a company looking to make it easy for parties to find you feel free to contact us to have you added to our list!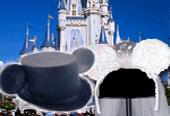 BACHELORETTE PARTY AT DISNEYLAND
What a better place to have your magical last night out with the girls than at Disneyland, Disneyworld and California Adventure! Enjoy walking around with bridal mouse-ears as you and the girls go on all the awesome rides.
Visit California Adventure and go wine tasting and then you girls can go out on the town at night since there are amazing places in Anaheim to celebrate your last night out, whether dancing, drinking, or with other entertainment! Tell your groom, "I am going to Disneyland" when he asks where you are going. Remember, what happens with Mikey stays with Mikey!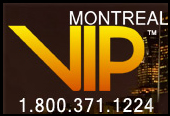 Montreal VIP - Canada
Montreal VIP offers the ultimate in Canadian bachelorette party and hen weekend planning is here at Montreal VIP. Their top notch service and VIP treatment will give you the ultimate hen weekend! They will organize your event from start to finish. This planning company in Canada can arrange for anything you want to experience in Montreal. Prepare for the ultimate extravaganza with Montreal VIP! Packages include: VIP Host - Customized Itinerary - Hotel accommodations - VIP to the best Montreal night clubs - Bottle service at the clubs - Dinning reservations at the best restaurants - Daytime activities: Spa's and Great Shopping - And anything else you can imagine. Call Them at: 1-800-371-1224 / 1-514-624-5183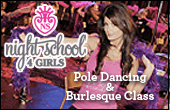 E! Star Laura Croft invites you to RELEASE YOUR INNER BOMBSHELL at Night School 4 Girls!
AS SEEN ON Extra, Star Magazine and AOL's City's Best. The Hottest new craze to hit the Las Vegas Strip!
Real Las Vegas Showgirls teach women how to shimmy and shake like a pro. Learn different pole dancing tricks and a burlesque routine with chairs and boas in the 70 minute, ladies only class. Night School 4 Girls also offers cool insider tips from the party pro herself, E!'s Holly's World Star - Laura Croft shares her party tips on how to get the most out of your girls night out in Vegas! From small to tall or skinny to shapely, Night School 4 Girls will make your bachelorette party, divorce party, or next girls night out one you'll never forget!
www.NightSchool4Girls.com * Phone: (702) 617-9219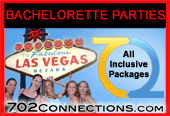 702 Connections - Las Vegas Party Planning
Las Vegas Nightclubs? Pool Parties? Male Exotic Dancers? Party Buses? You have been chosen Maid of Honor and in charge of organizing your best friends VEGAS BACHELORETTE PARTY! 702Connections is where the professionals come to play and they have the solution for you! Contact them and let their knowledgeable and experienced team help customize your weekend of debauchery. They will put together ALL-Inclusive packages that fit in your groups per person budget and allow you as the planner to enjoy the events without worrying about what's next on the agenda. You will come out looking like a superstar diva, knowing that the Bride-to-be and everyone else in the group had a truly ROCK-STAR experience! Save the gambling for the tables and slot machines, don't gamble on your best friend's memorable weekend! Let 702Connections.com make your Las Vegas weekend an EPIC experience to remember. www.702connections.com Phone: 702.951.2223
Make a Movie - Just when you thought the movie Bridesmaids was comical, have the girls make a movie. Interview each girl regarding her relationship and story with the bride to be. Take footage of funny times during the evening (nothing inappropriate since the groom may see). Have a viewing of the movie prior or after the wedding. A great event that keeps the memories alive!


Historical Bachelorette Party - If you and some of the girls are into history (or secretly watch History channel late at night), include a stop at a historical monument or site in your drive to your favorite destination. Take in a battleground, famous house or something that would be of interest to bring in an educational lesson. Then go and party which may make everyone forget what they learned - like school, a month after you graduated. At least you offered the lesson that may be of interest to some.


Restaurants - Have a nice meal with the girls and enjoy each other's company visit: usrg.com for great restaurant information nationwide.


Bachelorette Party Cooking Class - There is nothing like a good meal, especially when you prep it yourself. The new craze is to either go have a party out or at a home and hire a chef to teach the art of cooking. Have some great bachelorette party drinks, play some great games and you will have a great time! There is always a chef that teaches in your area so find one that is close. Also make sure to check out our cute bachelorette party cooking items.


Bar Hoping/Dance Clubs - What can be more of a crazy time than getting a party bus, limo or cabs and going to the bar or bars of your choice. Check out our top Drinks & Shots section.


Wine Tasting Last Night Out - Looking for a great weekend idea; consider to take a trip to wine country. Whether it is Napa, Sonoma, Temecula, or any other of areas in the US or abroad that provide wine tastings, it is a great way to celebrate the bride to be.


Bachelorette Karaoke Extravaganza - Have all the girls dress up in a bachelorette party theme and have them sing the night away as it is filmed for future laughs! Choose your favorite party songs and give out bachelorette prizes to the best performer, funny act, etc. This can be played at a home with a stereo or rented Karaoke machine or go out to your favorite bars/restaurants that have them!


Hire a DJ - If you are having an at home party what a better way to have tunes, hire a professional DJ.

Dress-up Party - Have the event at a friend's house that has a theme (i.e., famous celebrity, Hawaiian, 60's-80's or the ugliest bridesmaid dress they have). Girls can even play bachelorette games and bring sexy gifts, toys, and/or lingerie for the Bachelorette to wear on her honeymoon.

Check out our themes page for more ideas. Another great idea is to get some cute cups and decorate a foam drink holder with personalized messages to the bachelorettes which also makes the party exciting and keeps your drink cool!


Amusement Park - Some more popular local day events consist of going to an amusement park.
Top Amusement Park Sites: themeparkcity.com


Fortune-teller - Take the girls on a psychic adventure to a fortune-teller, tarot card reader, psychic, or have a hypnotist entertain the girls.


Theater/Concert - For a more formal evening with the bachelorette, have the girls go to your favorite play, sporting event or rock out to a concert of your choice.
For great theater entertainment, choose Stripper 101 Vegas


iPic Theaters - If you want to see one of the new chic flicks for the bachelorette party that have recently come out, check out iPic theaters where they offer luxurious seats with amazing dinners and drinks! You will be treated like the divas that you are and can then go out on the town after catching one of your favorite movies!


Mexico Bound - Can you say casita and dos equis? Mexico is an excellent place to have your bachelorette party, especially over the summer season! There are so many great values in the beautiful cities of Mexico, no matter if you want to visit Acapulco, Mexico City, Mazatlan, Cancun and many more! There are great deals you can get through travel agents as well as through friends. Although Mexico has been under scrutiny with corruption, it is only in certain parts that you want to stay away from, not the entire country. Nightlife has a huge part of Mexico's attraction and you and your friends will have a memorable time if able to go to Mexico for your last night out.


Go Bowling or Arcade Type Place with the Girls - A great bachelorette party event is to go to an arcade type bar or go bowling so you can have a relaxing time with the bride and her friends while being a little competitive. There are places like these around the nation that offer a one stop shop of bar and entertainment (ski ball, video games, dancing, neon bowling lanes, great music!)


Comedy Club - A great way to celebrate the party is with laughter at a comedy club. You can find different venues nationwide that have dinner, drinks and entertainment. You only know that the comedians would love to roast the bachelorette! There are many nationwide listing of comedy clubs you can contact and ask for discounts!


Blow Up Doll Uses - A great way to celebrate is with a blow up doll friend to accompany the bride on her last night out with her friends. Check out our blow up doll page.


Take a helicopter Tour - If you are in Las Vegas for your bachelorette party, check out one of the great and memorable tours you can take with the bachelorettes. Check out our bachelorette Las Vegas Tours section which has great tours!


Bachelorette Party Spa Day - A great way to celebrate is by going to a local Spa. Have all the bachelorettes get pampered with manicures, pedicures, and a great massage and then go out to a pool for some great martinis! What a way to spend the night in style. Look up your local spa or visit ourlocations ideas page for some links to the spa near you.


Bachelorette Party at Home - A great way to save money and have the girls focus on the bachelorette is to have a home party. Get some decorations as well as play party games. Make your favorite party drinks and play some great party tunes and movies. You will have a memorable time and make sure to get lots of pictures.


Bachelorette Slumber Party - There is nothing more memorable than to have all of your friends together for a pajama sleepover. You can make tasty sweets, watch favorite bachelorette movies and play lots of games. Create a bachelorette theme which only adds to the party.


Classic Tea Time - Go back to the classic days of the last night out party and have all of your friends dress prim and proper with nice big hats and have a tea party! Serve old style finger sandwiches, cookies and pastries. A classic party!


Go Glam - Hire a couple of bachelorette party strippers and have them carry the bachelorette in on a platform/board dressed as Greek slaves. This is a glitzy idea, especially if you don't tell all of the bridesmaids what is going on. Bling out the bride to be and have her make a grand entrance!


Bachelorette Party Pot Luck - A great way to save money and have a great time is to have all the girls bring their favorite recipes to the Last Night Out and have a pot luck dinner with everyone's favorites. Check out our pot luck information which will give you great ideas on how to have a successful and memorable food soirée.


Bachelorette Purse Party - An easy idea is to hire a clothing company that has different purses, accessories and clothing to come out and show their wholesale line to the bachelorettes at a home party. You can have fun shopping while drinking martinis or other mixed drinks. A way for everyone to end up with some great stuff to wear out that night if you plan on continuing the bachelorette party into the late hours.


Bachelorette Movie Night - Get all the girls together and get into PJ's, making popcorn and watching your favorite flicks with your BFF's. A great way to celebrate your last night out with great memories. Have some drinks and play some bachelorette party games to make it the most memorable ever!


Pool Party - Have all the girls get ready for some fun in the sun. Bring out the rafts, martinis and b-b-q away! Have the groom and his friends cook for the girls and then go out on their own. Rent some romantic movies and recite the lines. Have some fun and focus on the group of your best friends since this is a much more memorable and intimate way to spend the last night out.


Skating Party - Go to your favorite skating rink like the old days and listen to your favorite tunes as you move and groove. This is a very easy bachelorette party idea that will bring back some excellent memories and make some new ones with your divas.
Save
Save
Save