Bachelorette Party Games - Page 1
Whether you are home or away for the bride-to-be's last night out, you can have a memorable and fun time by playing some bachelorette party games throughout the evening. Below, we have listed the top games that Bachelorettes have written in to us, contributing to their party's success. We have listed over 120 free party games with in this section to choose from.
If you are looking at purchasing cheap bachelorette party games, we have the top selection, which you can find on the left side of the site navigation under shopping categories at the top of the site or by clicking here. Remember that each order placed includes 2 free party supplies as a way for us to say Thank You. Check out our great game ideas below:
Spinner Game Kit (3-Pieces)

This great three piece game kit includies two great games and one set of naughty award ribbons. The two games included with this kit include the Bachelorette Spin the Pecker Game as well as the always fun Booby Dare Spinner cones.

More Info

Pin the Macho on the Man

Pin the Macho on the Man game is a must have for any party! Just like the old 'Pin the Tail on the Donkey", the girls are blindfolded and need to pin the Willies on the poster. The game comes complete with a large size poster of a sexy man, with a very well placed 'Bullseye", and 25 comical cut out peckers.

More Info

Male Playing Cards

The Stud Playing Cards are always a huge hit at any bachelorette party! Each pack is a regulation set of playing cards, but these are not your typical Vegas style cards, nope - each pack comes with 54 Hunk Playing Cards, with each guy showing off his stuff!

More Info
1) "The Bachelorette Party Game" - Apple App available on iTunes!
Whether planning or attending a Last Night Out, this is a fantastic game to be able to have with you and the convenience of having it in your iPhone or iPad!! The game is Filled with dares, silly trivia, charades and other games, this app can help make for a great night out with the girls. Maybe the easiest bachelorette party game to take with you for any last night out and great for a last minute game. Loads of fun and at a the Amazing Price... only .99¢ Click here for more!
2) Mardi Gras Maddness: It's now time for us girls to turn the tables on those Mardi Gras Men! Have each girl wear one or more of the Colored Mardi Gras Beads and have the guys lift their shirts or drop their drawers for the beads! You can even have the Bachelorette wear all the beads and ask the guys to flash the Bachelorette for some beads.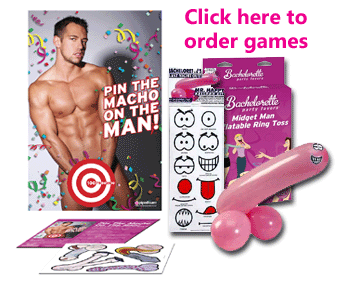 3) Rate the Men: Use our Bachelorette Party Rating Cards to rate men from 10+ to "Not My Type" and "Need Some Work". These funny cards are great to have in a bar, at a party, or by a pool where men are walking by! In addition, check out the Scavenger Hunt Dare games under our Printable Fun section and tasks for the Bachelorette and her Divas!


4) Napkin Trivia Game: This game is great at a wedding shower or Bachelorette Party since each napkin asks the Bride-To-Be and her friends questions such as, "What does your Groom wear underneath?" "What color of lingerie does he like her in the best?" and "What is her favorite time for having sex?". These napkins are loads of fun to bring to a dinner or bar. Click here for the Napkin Trivia Game.


5) Pin The Macho On The Man: This game is sure to make every girl laugh as she tries to attach the cardboard penis on the poster of the man. Find the game here!


6) Suck For A Buck: One of the classic games to play at any Bachelorette party. Create a shirt (like in the illustration above) with the words across the stomach that say "Suck For A $." Sew (or lick and stick) lifesavers throughout the shirt in "strategic" locations. During the night of the party, solicit men/boys/victims to pay to suck off one of the lifesavers. IMPORTANT TIP: Make sure to bring another shirt for the Bachelorette so she can change, in case the t-shirt rips or it gets too cold after you finish the game. If you are not into the suck for a buck game, have the Bachelorette wear one of our Candy Suck Necklaces and have the guys suck-off a piece of candy from it! If you are looking for a pre-made suck for a buck shirt.


7) Bachelorette Party Mad Libs: A great game to play at any party is Bachelorette Mad Libs. Click here to see a free Mad Lib to print or visit our Bachelorette Bash Mad Libs to order a whole book of mad lib games relating to the last night out which is a great and easy game to play with the bachelorettes.


8) Last Night Out Word Search - Look through the letters and find the classic bachelorette party words. Time the girls and see who can find the most in the limited amount of time you give them. They will have a blast and it is our gift to you as we have the PDF version of the game.


9) Pecker Toss: All you need is the Pecker Toss board game. Simply have each girl see who can get the most rings on the pecker. Give the girl who wins the most points a gift from our Games area.


10) Card Games: There is nothing like good old card games, except it's a little more fun when you play with Nude Male Playing Cards. Go Fish, Poker, and Black Jack will never be the same with these cards containing hunks! Combine the cards with drinking and you've got game. Click here for the cards.


11) Drinking Games: Get buzzed with the girls while playing Bachelorette drinking games. Add even more spice by playing games with our Willie Shot Glasses and the Party Whistle.


12) Walking Penis Racers: A day at the races with these little fellows. Wind the little peckers up, place them in a row on a flat surface and they're off! Give the winner a Gift from our Gift or Toy Section.


13) Private Dick: It's time to go under-cover Charlie's Angels style with Pecker Squirt Guns. Your mission: Choose a man with certain characteristics (i.e., the same name as the bachelor, red goatee, or whatever you want to make up) and send the girls out for the squirt. This game is really fun when played in a crowded pool at a hotel.


14) Funniest Story: Have the girls sit in a circle and tell the funniest stories they have experienced with the Bachelorette. This is a great way for people to get to know one another. Pass around a Toy, which girls hold when it is their turn to speak. Give the toy to the girl who has the funniest story.


15) Create A Story: Have the girls sit in a circle and each say a sentence in making up a funny story about the Bachelorette. A girl can start with "Once upon a time, there was a girl named (Bachelorette's name) and….." If a girl can't think of anything else to say, she moves out of the circle. The last one left should be given a gift for her creative talent!


16) The Cherry Game: Ask who at the party would like to regain her virginity. When you have several volunteers, place in front of each of them a maraschino cherry in a bowl. Explain that this will be a race to see who can eat their cherry first. They cannot use their hands. Just as they think this will be an easy game, you go around with a can of whipped cream and fill each bowl. Now you have a fun game.




17) Advice for the Bride: Cut construction paper into small heart shapes and attach pipe cleaner. Hand all of the guests one with a pen and ask them to write "advice for the bride" example, "never go to bed mad". Place completed hearts in a vase and ask the bride to read them out loud. This is a great keepsake for the bride.


18) That Guy Game: One of the most popular bachelorette party games is That Guy Game (card game). This game is a bachelorette favorite! Each card in That Guy Game has a cartoon depiction of a different type of guy (Mullet Guy, Sports Jersey Guy, Married But Not Tonight Guy etc.). Players deal out the cards, then on their night out they must find real-life guys who match the cards they've been dealt. First to find all her matches wins.


19) Bachelorette Party "Drink or Dare Game" - The perfect drinking game! This game comes complete with a Spinner Board, Score Card and Shot Glass. Each girl spins and reads the dare and then the Bride-to-Be gets to decide if she will take the Dare or Drink. This game is bound to get the night started or kick it into full gear! Dares include - Flash your Bra, Sit on a guys lap, Do A Table Dance, Retrieve a guys undies. (Please Drink Responsibly). You can also make a game like this yourself if you have a shot glass and make some personalized cards yourself (of course it is always easier to use the pre made and cute game :)


20) Bachelorette's Bar Challenge (Card Game) - This bachelorette party game is a major hit! The Bachelorette has two hours to collect five different Shot cards. She starts with 5 cards and carries out actions like "tie a cherry stem in a knot with your tongue" and "host the best rear end contest" to earn new cards. When the bachelorette wins, she gets to assign shots to friends articipating in the game! You will love this game played at any bar or while out on the town and found here.


21) Identify the Hunk - If you are having a Male Exotic Dancer at your bachelorette party, after he leaves, bring out a pre-made paper for each girl that asks the following questions:
a) What was the male dancer wearing at the beginning?
b) What was the male dancer's eye color and hair color?
c) How tall was the hunk?
d) What color briefs was the male dancer wearing (if any)?
e) What song did the exotic dancer dance to?
f) How many songs were played during his stay?
g) How many girls did the exotic dancer dance with?
h) What was the male dancers name?
i) Insert other questions here and copy this paper for the girls
Make sure to give a prize to the girl who gets the most right and make sure to have the dancer himself fill out this form before leaving (not in sight of the other girls).


22) Pass The Vibe - Nothing is better than to take a childhood game and make it an adult game. Pass The Potato game can be changed to a cucumber, vibe, or other novelty item to add a little spice and laughter to this easy to play game. Give a gift to the bachelorette party winner of the game.


23) Quarter-Back - This easy-to-play game is like the rules made up in the game "Quarters". Anyone who does a certain "thing" that the bachelorette states not to do has to give a quarter to the wedding fund. Some ideas include:
a) Cussing
b) Using the words wedding, bride, bachelorette, etc
c) Saying the fiancée's name or their own boyfriend, husband, or girlfriend's name
d) Clapping
e) Drinking before the bachelorette drinks (each sip)
This game can be a lot of fun at the bachelorette party, whether you are out on the town or at a home party.


24) How Well Do You Know the Bachelorette - Have a bunch of pre-qualified questions you ask the bride-to-be and her fiancé and see how many people can get the questions right. You can either make the questions up yourself like "what is the bride's favorite color", "when did the bride lose her virginity and to whom"...or you can check out our Bachelorette Trivia Card Game.


25) Bachelorette Party Bash Madlibs - Wherever the bachelorette party will be, an easy game to take along. It is a lot of fun to have everyone fill in the blanks and then read back the bachelorette related story with crazy and loony fill-ins from the group! You are sure to all laugh and have a great time with this game! It is also possible for a creative girl in the group to make up your own mad libs.


26) Pick up Diks - Another fun game from the past (Pick Up Sticks) where you lay miniature tooth"diks" over each other and take away one by one without disturbing the other sticks. The nice thing about this game is that it comes with a shot glass and the pieces can be used as stirrers as well :)


Bachelorette Party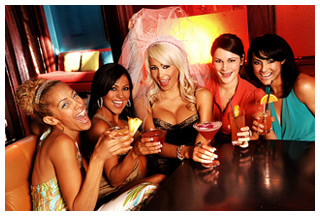 Bachelorette Party Supplies
If you are looking for some great supplies we have all the favors you need to make your party a huge success. We have over 500 different discounted supplies to choose from. Most items are already over 70% off, as we see no need for gimmicks or coupons - just low prices! Everything is in stock and we constantly receive new products to add to our inventory of decorations and favors to select from. You will also find our customer service top notch as we know how important it is to get these supplies to you asap.
Bachelorette Party Games
Almost every party includes entertaining party games. Not only do we have over 125 free game ideas, we also have an excellent scavenger hunt with 100 dares you can find on our link navigation. We have an excellent selection of the top games at the lowest prices you will find anywhere. Make sure you match the type of games you play with the personality of the bachelorette and other girls who are attending, since we have selections from mild to wild to choose from.
Bachelorette Party Decorations
We understand that you may not have a lot of funds to throw a crazy party in this economy, which is why we have an excellent selection on bachelorette budgeting tips. We have thought of great ways to reduce your expenses, especially decorations while keeping the fun and excitement for a memorable time.
Bachelorette Party Ideas
There are so many ways to throw the bride to be a great party. We have some of the most popular, classy, and sassy ideas to help you plan and make the party a major success. After planning over 200,000 bachelorette parties over the last thirteen years, we have brought you the most comprehensive website to help out with every part of your planning and constantly add new information every week. You can find other great bachelorette party ideas and information throughout the site.
Throughout our site you will find everything you need to plan the best last night out possible. We are your one stop site for providing everything; from bachelorette party etiquette to budgeting for the main event. We know there can be eustress (positive stress) and even distress when planning for the bride-to-be, as we are all busy in our daily lives and then are given this important event to plan. You will find a relief when realizing we have included everything to give you excellent ideas while adding new content and articles every week!
There are definite do's and don'ts of the night and we are here to help guide you through not having an embarrassing picture posted on twitter the next morning! Follow our lead and you will find you have everything to look like a Rock Star planner. We are also always open to having your great ideas so email us at any time!

The definition of a bachelorette party originated in Europe and was a pre-wedding festivity, only attended by friends and family to celebrate the end of a life of single-hood. We have some interesting facts for you and the girls about the last night out, which you can quiz your friends. It is entertaining to see which bridesmaid knows the origins, what different cultures call the last night out and some cool facts you can share with your friends. Some of our advantages include:
● Free shipping on orders over $59.00 (US - 48 states) Standard Ground - shipped the same day (if before 6pm - EST - M-F) *
● 2 Free bachelorette gifts with Every Order - No codes needed - Its automatic! (Orders over $99.00 get an extra 3rd free gift) *
● Orders received before 6pm EST (3pm PST) - (Mon - Fri) shipped Same Day *
● Best discounted prices on bachelorette party supplies online, with everything in stock!
● Excellent customer service! Feel free to call us at 818-718-1104 or email at Orders@BachelorettePartyFun.com
● Confidentiality of your information, which is Never Shared or Sold!
● Highest security website to protect your personal information, 24 hours a day.
● Offering the most comprehensive and best content on the Net for your supplies, games and idea's
● No Sales Tax (except CA orders) *

Please Be Safe
A major must is bachelorette party safety as there have been way too many accidents over the past few years as more and more last night outers get wild. It is excellent to have fun but make sure to have some restraint so no one goes home in a cast or gets hurt. We have an excellent section on safety ideas that will help keep the crazies in line while still having a memorable time.

Here are a few more articles to help plan the bachelorette party:
Drinking Tips - You want to make sure to have a wonderful time without too much inebriation. Let us help in not re-creating a scene from The Hangover! We also offer you lots of shots and drink recipes.
Bachelorette Party Travel - If you plan on going away for your last night out, check out our excellent travel tips that include a very useful downloadable itinerary on what to bring!
You will find tons of other free bachelorette ideas throughout our website to help in planning your party. We hope you enjoy our site and look forward to hearing from you!