Exotic Dance Lessons



Looking for something that is unique and fun for all the girls? Take a pole dancing class or exotic dance lessons from an expert. We have collected the finest teachers nationwide to choose from to make your search easier! Carmen Electra made this new form of dance popular and fun as well as teaching you some moves for you to share with your partner after class!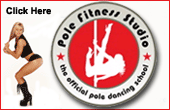 POLE DANCING LAS VEGAS - Las Vegas

Fawn Mondey is one of the top pole dancing dance instructors of the world. Being an experienced pole dancer and instructor, National Figure Competitor, and Playboy Model, she can show you the ropes in how to dance for your partner! Join the new bachelorette party craze in learning how to pole dance, lap dance, exotic dance or just have a great time watching the bachelorette strut her stuff! Fawnia has been teaching Exotic Dancing since 1994. Now you can benefit from her knowledge and techniques in Las Vegas! She will help you to make your next party the one to remember. With your booking, you and your friends will receive free VIP access to one day club and one night club, plus everyone receives certified sexy certificates Call 702-878-7653 (POLE) Fawnia's Personal Website * Book a Party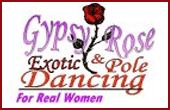 GYPSY ROSE DANCING - Boston, MA and surrounding areas
Gypsy Rose Dancing is your place to be if you are in Massachusetts. Owner, Wendy Reardon, an experienced dancer will show you and the girls a memorable time. The bachelorette party package includes An hour and a half of crazy, giggly fun while you learn how to dance like an exotic dancer, swing around the pole, and do a seductive striptease...Wear a slinky outfit and heels for extra fun, then go out and use your new skills on the dance floor as you celebrate the bride's last hours of freedom! And the bachelorette gets a certificate proclaiming she's now an Official Exotic Dancer! Call them at 617-824-0349 or Click here to visit their Website!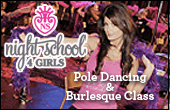 Night School 4 Girls - Pole Dancing & Burlesque Class

Real Las Vegas Showgirls teach women how to shimmy and shake like a pro. Learn the art of seduction, pole dancing tricks and a burlesque routine with chairs and feather boas in the 70 minute, ladies - only class. Graduate into the Vegas lifestyle with party tips and VIP nightclub access! From small to tall or skinny to shapely, Night School 4 Girls will make your bachelorette party, divorce party, or next girls' night out one you'll never forget!
www.NightSchool4Girls.com * Phone: (702) 617-9219

Over the last few years, it is amazing how popular exotic dance lessons or pole dancing lessons for a bachelorette party have become. We have some great tips and ideas in making your experience a success:

Plan early - Many of these companies fill up quickly since it is such a popular party event, whether it is a birthday, bachelorette party or girls just having fun. Call the dance instruction company as soon as you know this will be the event of choice for part of your last night out.


Use a reputable firm - It is easy for anyone to state they conduct exotic Dance lessons or pole dancing lessons. The companies above have been recommended and we know are reputable firms. They cater to making sure you and the girls will have fun for the evening and learn a few sassy moves.


Find out what is included - Each pole dance lesson company has their own packages that include everything from martinis, pictures, props and even bachelorette party boas. Find out so you can also decide what you want to bring as for bachelorette party favors and food/drink.


Get the buy-in from the girls - Not everyone may want to participate so get a census as to whether or not there are some divas that don't want to strut their stuff. These girls may have valid reasons (i.e., Health issues) and still may want to watch. Some may need a little coaxing by having the dance instructor speak with how fun it is to all let loose.


Actually get the buy-in - Find out how much the classes are as they are reasonably priced when you think it is bachelorette party entertainment and an actual dance instruction to be used later on the significant other of choice. Many of these dance instructors are famous dancers who have years of experience and know how to throw a fun and memorable night. Make sure to find out how much it will be per girl and have each girl pay their way early, while chipping in for the bachelorette herself (unless she gets the free lessons).


What's next - Plan ahead and figure out what you will be doing before or after the exotic dance lesson / pole dance lesson. If there is not food and drink available, are you going to go after for a great meal, to a bar, etc.


Bring a change of clothes and make-up - Freshen up after the lesson and get sassy once again. We have a great bachelorette party checklist if you are going out of town or out on the town and need a list of essentials.


Strike a Pose - This is usually not a problem since everyone has an iPhone/digital camera. It will be a fun night and a great time for pictures.

Hopefully our Dance lesson ideas and tips above are helpful in assisting in your planning of finding the right dance instruction company of choice. Most of all, have a great time with you and your friends since the night is one to remember!



Save
Save
Save
Save
Save
Save