Bachelorette Party Directory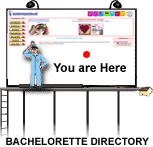 Bachelorette party planning can be either a stressful experience or one of fun and memorable times. For more help in planning your bachelorette party, check out our Bacheloretteiquette section.

Below we have listed a bachelorette party directory to help you get around the site and make it easier to find what you are looking for to make the bachelorette party a success. Click on the links below to decide what you need and we hope this bachelorette party directory is helpful in planning a fun party for you and the girls!

What Bachelorette Party Items Do I Need? Make sure to order early which will save money in shipping. You can also send these items to a business since they come in a brown box with the name I-Volution on them. To make you comfortable in ordering from our site or want shipping information, check out our page about ordering from us here.

Great Gift Ideas - bachelorette party gifts and other items for the bachelorette to wear.

Party Favors - Little items that are inexpensive to make the bachelorette party more festive!

Decorations - This is a way to decorate the house, hotel room, car, or wherever you decide to have the bachelorette party.

Food / Utensils - There is nothing like bringing bachelorette party food, straws, cupcakes, and other bachelorette party candy to make the party sweet and exciting!

Games - To keep the party moving, check out the games you can purchase at inexpensive prices which will make a memorable time.

Honeymoon and Party Gifts - These items make great gifts for the bride-to-be or for the bachelorette and maid of honor! Lots of Fun!

Party Packs - For those bachelorette party planners who want to make it easy and pick up a pack of great items, check this page out.

Planning The Bachelorette Party - Below we have listed some great planning ideas that deal with everything from invitations to locations. Check them out which will help.

The Invitations - This page provides you when to send out the bachelorette party invitations and other information to start the planning process.

The Games - Games are an essential part of the party as they are great ice breakers for the bachelorettes to get to know one-another as well as adding to the laughter. There are a bunch of free bachelorette party games on this page. One of the favorite games to play is the scavenger hunt which you can download here.

The Location - As soon as you have an idea what type of party you want to have, we have listed some of the most popular locations on this page as well as great bachelorette party services.
Las Vegas is one of the top bachelorette party destinations! Click here to check out our Las Vegas Directory

The Limos and Busses - If you are going to a bar, out of town or anywhere you need a ride, check out our top bachelorette party nationwide limo directory here.

The Entertainment - Whether you are looking for a wild or mild bachelorette party, we have your entertainment here!


More Bachelorette Party Planning - After you have taken care of the major planning, we have listed below some of the finer details to help make the party a success.


The Bachelorette Oath - A great printable document to present to the bachelorette and other divas at the party.

The Drinks - If you are interested in some drink recipes as well as bachelorette party shots, check out this page.

The Tunes - Music always adds life to a bachelorette party. Check out the top tunes as well as the bachelorette party cd with all of the favorite party songs.

The Movies - Whether you are away or at a bachelorette party home to celebrate the "Last Night Out", check out the top movies we recommend for the bachelorette party.

The Recipes - If you are interested in making some great dishes for some yummy fun, check out our recipes page.

The Jokes - It is always fun to print out this page and make the girls at the bachelorette party laugh with these jokes we collected.

The Practical Jokes - If you are one who loves to do practical jokes, you must check out this page

The Blow Up Doll - It is great to add a blow up doll to the party and dress the doll up in funny clothing! Check out our blow up doll section for more inflatable information.

Other Bachelorette Party Stuff - Our bachelorette party resources and other information may help in the planning of your party below:


The Therapy - Dr. G (A real psychologist) can answer some of your questions about planning the bachelorette party. Check out some of the common questions.

The Resources - If you are looking for bachelorette, bridesmaid, maid of honor, and wedding information, check out this wealth of resources on our links page.

About Us - If you want to know more information about us and where we have been in the media, check this page out.

Frequently Asked Questions - This page will answer some of your questions about our site and ordering from us.

Contact Us - We are always around to answer your questions.

Bachelorette Party Articles - Here are some of the articles we have written in the media.

Media - If you are interested in speaking to us about our network of bridal sites, go to this page.

We hope all this information is helpful in planning your bachelorette party. We are always around to help you find what you need to make your bachelorette party a success. We are here to help! Have a great time at your bachelorette party!