Bachelorette Party Ideas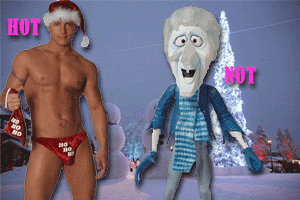 Month of December 2013 - Happy Christmas - Kwanzi Kah Month
We are now moving into the last part of the year (what the f--- happened to the year already girls!) December is a great time to have your bachelorette party as well as incorporate the Winter season into the Last Night Out celebration. Dress up your diva as Mrs. Klaus, a sexy elf or a cute red nosed reindeer and have her ask the boys where she can find her presents! Check out some of the other cool bachelorette party information below that may help you plan your last night out festival:

Bachelorette Party Picture of the Month
For all of you that love to play the Hot or Not game, here is a funny picture we created for you! Who would you prefer to be on an icy cold workshop with? The bachelorette party rating cards are a fun way to also rate your hunks during your Last Night out!

Drink of the Month
Spike the halls with boughs of Eggnog, Fa-La-La-La-La-La-La-De-Dah. There is nothing like drinking during the holidays, especially during your bachelorette party during Christmas or Hanukah. For this fall season, check out the drink below:
Eggnog - Spiked recipe

12 eggs
3 pints heavy cream
1 cup sugar
1/2 tsp nutmeg
1 cup bourbon whiskey
1 cup cognac
1/2 tsp salt
Separate the eggs. In an electric mixer, beat the egg yolks with the sugar until thick and lemon colored. Slowly add the bourbon and cognac, while beating at slow speed. Chill several hours. Add the salt to the egg whites and beat until almost stiff, or until the beaten whites form a peak that bends slightly. Whip the cream until stiff. Fold the whipped cream into the yolk mixture, then fold in the beaten egg whites. Chill one hour. When ready to serve, sprinkle the top with freshly grated nutmeg. This is a fun drink over the holidays if you are having a bachelorette party. Look for more drinks on our bachelorette party drinks page or on our fun food supplies page for straws and other fun items.

Bachelorette Party Joke of the Month
Here is a funny bachelorette party joke of the month. Of course it is male bashing related but we will be doing more bachelorette party jokes in the months to come:

Why is a Christmas Tree Better Than a Man:
1.. A Christmas tree is always erect.
2.. Even small ones give satisfaction.
3.. A Christmas tree stays up for 12 days and nights.
4.. A Christmas tree always looks good - even with the lights on.
5.. A Christmas tree is always happy with its size.
6.. A Christmas tree has cute balls.
7.. A Christmas tree doesn't get mad if you break one of its balls.
8.. You can throw a Christmas tree out when it's past its 'sell by' date.
9.. You don't have to put up with a Christmas tree all year
For more bachelorette party jokes, visit our bachelorette party jokes page.

Movie of the Month
About Last Night - This movie is a classic liner movie with all the laughs, tears and elements that makes it perfect for a bachelorette party (including Rob Lowe!). Demi Moore, Rob Lowe, Joanne Cusack, and Jim Belushi are awesome in this feel good bachelorette party movie! Enjoy as it covers the Holiday months to make you feel like it is contemporary! Yell out the lines for those of you who know them! Check out our bachelorette party movies page for more great ideas!
Nightclub of the Month
If you celebrating your bachelorette party in Las Vegas for the Holiday season, we strongly suggest the bachelorette party visit one of the great clubs there! Bachelorette Party Fun suggest to have the bachelorette party dinner their first and then stay for the dancing festivities, before going to your next location. Visit our Vegas section for more bachelorette party Vegas ideas.
City of the Month
Party like a Canadian rock star and not wait in lines to all the exclusive clubs and restaurants, check out Montreal VIP and they will take great care of you! Check out our bachelorette party location ideas for more information in a city near you.
Bachelorette Party Supplies of the Month
For the Winter month, it is great to have fun indoor bachelorette party supplies. Check out the Pin the Hose on the Fireman which will heat up any cold Last Night Out! Make a little Santa outfit for the fireman in the picture as you blindfold your divas as they walk straight into a wall or hunk. Important Safety Tip: If she is going to walk into a dude, steer her another way so there is no scene.
Game of the Month
The bachelorette dare activity cards are a fun and easy way to play bachelorette party games indoors. Have the bride-to-be do the dares and get the other bridesmaids to help out! Play for drinks and have an awesome time!