Bachelorette Party Ideas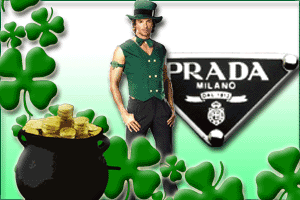 March Madness - Mardi Gras and St. Patty's here we come:
If you are planning and/or having a bachelorette party in March, you are golden as this is a great party month! What is better than combining the Mardi Gras theme into your party! Even a little hint of St. Patty's for the bachelor by dressing him up as leprechaun or getting a blow up doll and dressing her up as a leprechaun or in a sexy green outfit, is epic! Make sure to add some Mardi Gras beads. Below we have listed some of the more popular and weird party ideas of the month:
Bachelorette Party Picture of the Month
Nothing says it better than a half naked male exotic dancer cupid! He can shoot his arrows at me anytime he wants. A great idea is to have the male dancer dress up as a leprechaun or your favorite bachelorette party blow up doll in a festive outfit! The girls will get great laughs.
Drink of the Month
A great St. Patty's drink is called The Red Kiss. The drink includes the following ingredients:
½ oz. of grenadine syrup
2 oz mandarin orange vodka
juice of one orange or strawberry
¼ oz. Chambord
Add some sugar to the rim of the glass and you are set with a great St. Patty's drink! Look for more drinks on our bachelorette party drinks page or on our fun food supplies page for straws and other fun items.
Bachelorette Party Joke of the Month
Here are some funny jokes of the month. Of course it is male bashing related but we will be doing more jokes in the months to come:
Marriage is a relationship in which one person is always right and the other is a husband.
A man is incomplete until he is married. After that, he is finished.
A couple was having a discussion about family finances. Finally the husband exploded, "If it weren't for my money, the house wouldn't be here!" The wife replied, "My dear, if it weren't for your money, I wouldn't be here."
Boring husband: Honey, why are you wearing your wedding ring on the wrong finger? Bored wife: Because I married the wrong man!
Before marriage, a man will lie awake all night thinking about something you say. After marriage, he will fall asleep before you finish.
For more jokes, visit our bachelorette party jokes page.
Movie of the Month
A great movie for Spring is the origional Spring Break movie from 1983. This funny movie is full of one-liners, hot hunks and funny scenes that are very similar to a Last Night Out party!
Idea of the Month
A very unique, entertaining and reasonably priced bachelorette party is by having a home party and inviting the DJ Chef to cook, entertain and spin the best mix of tunes! DJ Chef is based out of New York but can travel. He can cook for the bridesmaids some of the most tasty food while mixing awesome music! His showmanship is one of a kind which is why he has been on MTV and worked some of the most exclusive US parties! Check our bachelorette party entertainment page for more great ideas!
Bachelorette Party Supplies of the Month
St. Patty's and Mardi Gras is always great when there are sweets around. Check our bachelorette candy page where you will find some great lollipops, yummy hard and jelly candy as well as great items to throw your bachelorette party.
Game of the Month
If you love pictionary you will love this bridal equivalent called Picture-It bachelorette style. This game is like the classic drawing and guessing game which is fun to play with the bridesmaids anywhere you go. All questions are bridal related to draw and guess! Check our other bachelorette party games.