Bachelorette Party Movies

Top Bachelorette Party Movies - Whether you are out on the town with the bridesmaids or at a home party, bachelorette party movies are always fun to watch with the girls! Choose your favorite movie with great one-liners or memorable scenes and sit back and relax with your friends.

Bachelorette Party Fun has researched the top bachelorette party movies and has a great list for you to review below. Bring out the party sippers, shot glasses, and games, while watching your favorite scenes. Please let us know if you have any favorite bachelorette party movies you would suggest since we want to give our audience as many selections as possible:

When choosing movies for your bachelorette party, we have listed some helpful ideas below in making sure you get the most out of your last night out:


1) Favorite Movie - Whether you are at a home party or away with the girls, take out the bride-to-be's favorite movie and showcase the flick as you eat your favorite bachelorette party snacks. Is it Pretty Woman, Bridesmaids, or an oldie but goodie!

2) Theme Movie - Talking about bridesmaids, you may want to show a movie that relates to the evening like My Best Friend's Wedding, Wedding Crashers or whatever the flavor of the evening may be.

3) Funny Movies - Guys are not the only ones that remember movie lines. Whether you watch classics like Airplane, American Pie, History of the World, Caddyshack or any of the slapstick movies that made us laugh growing up, get out the buttery popcorn and watch the girls roll in laughter.

4) Classics - There is nothing like a great group of black and white movies to enjoy the evening. Go to your prefered search engine and look for your favorite movie genre or break out a classic movie from your DVD collection.

5) Romance - Anyone say Titanic for the um-teenth time? Whether you enjoy Pretty Woman, Gone with the Wind, or The Holiday (one of our favorites), you will get all the bachelorettes gushy of emotion!

6) Turn up the Heat - Yes, you can have the symbolic movie playing like Magic Mike which shows a lot of what us girls love - Hunks that dance and perspire!

7) Name that Movie - A fun bachelorette party game is to get a group of movies and play a random scene from it to see who can name the movie first. See who can get the most correct.

8) Theme Movies - If you are having a bachelorette party theme, have some fun and choose movies around the theme of the evening.

9) Late Night Movies - if you don't want the bachelorette party to stop and decide to have a slumber party, choose some of your favorite movies to have on standby to watch until the wee hours of the morning. A great way to finish an excellent last night out with the girls!

10) What the Bachelorette Wants - Most of all, make sure the bachelorette party movies you choose, fit the bride-to-be's interests so you don't have a bored dive of the night. Have a great time and we hope these bachelorette movie ideas help!

Father Of The Bride
When Harry Met Sally
Grease
Wedding Singer
Pretty In Pink
Sleepless In Seattle
Meet The Parents
Affair To Remember
Breakfast At Tiffany's
Thelma & Louise
Pretty Woman
Somethings Gotta Give
My Big Fat Greek Wedding

About Last Night
Love and Marriage
As Good As It Gets
My Best Friend's Wedding
Jerry Maguire
St Elmos Fire
Ever After (A Cinderella Story)
Never Been Kissed
Breakfast At Tiffany's
Cinderella
A League Of Their Own
Wedding Crashers
Little Black Book

A great idea for your bachelorette party is to take you and the girls to see the movie Bridesmaids. We were fortunate enough to see an early screening of Bridesmaids and loved the movie! Anyone who has or will take part in a bachelorette party or bridal shower will relate to the movie and will enjoy the comedy throughout the film. There were scenes which had me laughing to the point of crying. If you want to see a great comedy, see Bridesmaids!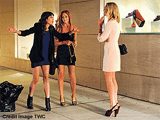 Bachelorette Movie
If you want to see another Bridesmaids movie type of humor with even more raunchy scenes, check out Bachelorette (2013) which stars Kristen Dunst, Isla Fisher, Rebel Wilson and Lizzy Caplan. This comedy follows a bachelorette and her friends from California to Manhattan, through a bachelorette party that spins way out of control. Kristen Dunst plays the bride-to-be in this train wreck of a bachelorette party movie where her maid of honor and friends snort drugs, be mean and catty. The characters are reported to be ditzy (Isla Fisher) and goth/dark (Rebel Wison and Lizzy Caplan). You will have to hear the rest by seeing the movie. A great movie to watch prior to having the last night out in preparation of what not to do!