Bachelorette Party Supplies - 1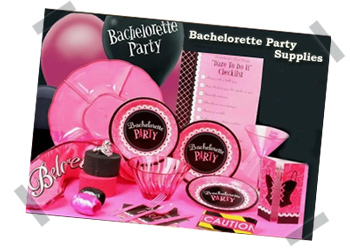 After helping to plan over 100,000 bachelorettes parties, we feel very confident in helping you shop for the right bachelorette party supplies to make it a success. Whether you are going out on the town or staying in, whether you are having a classy or sassy party, having the right supplies, decorations and favors will contribute to any last night out event! Make sure to plan early and order your supplies with lots of time to spare. Our site offers the lowest prices on bachelorette items and will has great shipping rates (and free shipping) when ordering early. By ordering early, you can send the package out ground rate which will save you lots of money.

Pin the Macho on the Man has been a favorite for years and makes for a great bachelorette party decoration as well as a game. Just like the pin the tail on the donkey, this game uses willies to pin on the hunk. Blindfold the girls and spin them to see if they can place the willie as close to anatomically correct as possible. You will get great laughs with this game.


Picture It is just like the game of Pictionary, this is a bachelorette favorite and comes in a small box that can be transported anywhere. It is one of the most popular bachelorette party games of the year.

Popular bachelorette party supplies
Below we have listed some of the most popular items as well as some ideas to think about when planning which supplies you want for personalizing your own party. When thinking of supplies, they fall into a few categories that we have listed below. Each of them help in fulfilling different parts of the last night out with us only showing the top ideas and the most popular items - based on our customers and experience over the years.
"Wearable's"
One of the most popular products is what to dress the bachelorette in. A great place to start is her preference as to whether she wants a classy or sassy last night out. Some of the most popular items are a bachelorette tiara which come in so many colors and sizes. Many of them have words like "Bride to Be" or "Bachelorette" across them and can sparkle and even flash. We have a wide selection for you to choose from along with an excellent bachelorette party princess pack offering all you need to dress up the bachelorette for a very low price!
There are many other supplies to dress up the bachelorette in, including a bachelorette party sash. You can find those sashes that are classy as well as fun bachelorette sashes that light up! This wearable is excellent to dress up the bride-to-be in which gets a lot of attention if you are out on the town as well as making the bachelorette look like a pageant winner. Another really cute item is the inflatable ball and chain which is cute and really ads some fun to whatever the bride-to-be is wearing! There are a lot more ideas throughout our site as well as great themes for all the other bachelorettes to wear and participate in.
Party Decorations
Give the room a make-over with some cute decorations around the area you are throwing the last night out. There are tons of bachelorette party decorations including banners, wall hangings, centerpieces, balloons and more. Sprinkle some bachelorette confetti on the table and use a bachelorette trivia tablecloth which is festive and fun as it has a game to play – including markers. Dress the room up anyway you please but make sure to think about the venue, weather (indoors or out) and the bride-to-be's preferences when planning what you will be decorating.
Games to Play
A last night out is not a real party unless you bring in the games! Whether you start out with ice breaker games or finish with more zany dares, you and the girls will have a memorable time when bringing in the fun competitions. There are so many fantastic bachelorette party games to choose from with our top three favorites listed below:

Spin the Pecker is a very mobile game that you can take anywhere. When going out with the bachelorettes, throw in a purse and take it out at any time to take turns in seeing who will do a shot or flirt. Play for points and on teams. A lot of fun with a group of girls.

Take a look throughout our site at other games we offer since you will find all of them at great prices and a wide selection to choose from. We also have our free bachelorette scavenger hunt game which you can play with the girls and has 100 dare items! We always try to bring as much bachelorette party supply information to you in helping create the party that is right for you and your friends.

If having some time at the last night out for a really great bachelorette party game, check out Picture It. Just like the classic Pictionary game, this is one of the finest games. The cute box contains 75 cards of bachelorette and bridesmaid themed items along with a pad of paper, sand timer and pencil. The girls will break into teams as one of their teammates chooses a card and draws the wedding related item, as the other girls guess what the girl is drawing, without her saying a word to her teammates until they get it right. Make it more fun and have her do a shot or dare if she uses non-verbal expressions as head nods, hand movements, etc.

This is one of the most popular bachelorette party supplies we know of and it comes in a pink box with a cartoon of bachelorettes playing the game. Picture It comes with instructions and is pretty self explanatory. Even more fun is to make up some of your own wedding or bachelorette related items. You can even think of some personal inside jokes of items that would be related and relevant to the bride-to-be as you know her so well. Play for points and have the losing team have to do a dare or sing a song in front of people. It is all about having fun and a memorable time which this game can help out with. A more formal description of Picture It:

Object:
Bachelorettes need to guess the clues drawn on a piece of paper to correctly identify the final word produced by each themed card. By doing so, the team guessing correctly will gain points. The first team to reach 15 points will win the bachelorette party game. Every correctly guessed themed bachelorette word is equal to one (1) point.

This is one of many products that comes in a more formal box which is still small enough to fit in a larger purse and easy to carry, no matter where you go for your last night out. We recommend this as one of the games you whip out for the evening as it is a group participation game which makes it much easier than the one on one games. Picture It can be found here but also check out other bachelorette party games.

Bachelorette Candy and Utensils
Bring in the sweetness with our largest selection of bachelorette party candy found on the net! The candy comes in rings, necklaces, bracelets and candy you can place in trays and on tables. Many of them are shaped as diamond rings or willies. Get one for each girl in a bachelorette gift bag that they can take with them when going out on the town or even at a home party. One of the free items we give in orders is a bachelorette party candy since everyone loves some sweets!

Depending on what type of party you are having will determine what type of utensils you may need. We have tons of bachelorette party supplies for tableware that includes cups, napkins, plates, plastic-ware, trays. Some of the more favorite items are the bachelorette sippers and Cocktail shakers. You can make it easy and get an all in one party pack which will include everything you need for a table. Makes it really easy to make for a festive last night out without the thinking of what to order – all at a great discounted price!

Blow Up Dolls
Nothing says party better than a chaperone in the form of a bachelorette party blow up doll. Fun inflatable's make for a great and memorable time since you can dress the blow up doll as the bride-to-be's fiancé, favorite celebrity or favorite rock star. Give him a bachelorette name tag and watch the heads turn as the bride-to-be passes by them handcuffed to her inflatable boyfriend for the evening. There are some great games as inflatable's which you can find throughout the games pages. Make sure to get lots of pictures which make the party remembered for all your friends who are attending. A great idea is to take pictures with your phone and email them to those who could not make it, including the groom, showing who the bride-to-be hooked up with. You will get great laughs from all.

Bachelorette Party Favors
It is always nice to give the girls who attend a little gift bag to start the nights festivities. Our favorites are found on our Favors page and include things like the peep show camera, shot glass wedding ring, and candy whistle necklaces. A fun and creative idea is to get a bachelorette bag and fill them up with these little items which will be appreciated by all who attend. It also starts the event off with some little gifts which will amp the girls in looking forward to a great time during the last night out.

There are many other bachelorette party supplies you will find throughout out site – at the lowest prices around. We appreciate you in taking the time to get ideas from our site and hope we offered you what you were looking for. We are always around to answer questions and can help in preferences on what the bride-to-be may want. Call or email us as we are here to make your last night out party one to remember.
---
Great Tips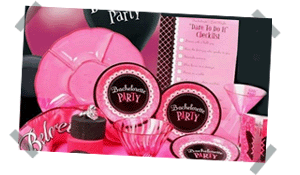 Before you start your purchase of bachelorette party supplies, there are a lot of things to think about in becoming a smart and economical shopper, especially in this economy. With so many different items on the market now and different personalities at the last night out, it is important to take all factors when planning which supplies will go over the best. Here are our tips of the trade which will hopefully help you in the fun you have selecting the right ones for your last night out:

What is the bachelorette's personality? It is important to remember that it is her party and centered around her - not the other divas - since many will offer their suggestions of which bachelorette party supplies are best. Some things to think about:

Is the bachelorette sassy or classy - conservative or wild? Does your bride-to-be get embarrassed easily? Does the bachelorette like certain items that can be turned into themes? Does your bride-to-be like attention drawn to her or more of a personable quite person? Answering these questions will help in you planning which supplies are best for the festivities.

Where is the bachelorette party being held? Is it home or away? This will determine if you purchase bachelorette party supplies that are easy to travel with (smaller items that fit in a purse or suitcase) or go with big, bright and bold for home party decorations.

Will the supplies be used indoors or outdoors? In the summer months, it is fun to get supplies that squirt water and can be tossed around while in the cold months, the supplies will most likely be used more indoors.

The earlier the better - Ordering your supplies as early as possible will help save in shipping (maybe even free freight) and allow time for you to choose the best bachelorette party decorations available. It is like making a list when going to the supermarket - you many times will save and be more economical with some planning. We always suggest at least three weeks early to order but it is absolutely fine and usually doable with one week left - even though rushed.

Bachelorette Brain Session - Call an early conference call or coffee shop meeting together to first meet all the bachelorettes that want to participate in planning the bachelorette party supplies and venue as well as help in the "where and when". This is a great ice breaker, collection of emails and names with faces as well as where the fun and excitement begins. Let everyone give their two cents worth with first discussing who the bachelorette is as discussed above.

Where are the games? One of the most popular supply categories is bachelorette party games. There are so many fun ones to play and bring wherever the party takes you. Whether you are going to play dare games, drinking games or more conservative sentimental ones, they always contribute some great memories with the girls. One of our favorites is to go around and discuss how each of you met the bachelorette and one funny thing she has done. Some of the bachelorette party supplies are both games and decorations so you get a two-in-one! Look through our site and you will find under the games lipstick button on the left some of the funniest bachelorette party supplies that are out as well as brand new items of 2014.

Saving money by throwing a mixer - If the economy has hit you hard and you and the bachelorettes have little money to spend, decide on your budget as a group and only spend what is necessary for party. The rest can be created with some good old fashioned pens, paper and scissors. Have some fun with a pre-decoration party where you and the girls can make some of the cute supplies. The bride-to-be will be touched with the thought that goes into the creativity that some of the girls may want to show!

Most important - it is all about having fun with your friend or family member who is about to take the plunge so dress up the party with some exciting bachelorette party supplies she will remember and appreciate.

We would love to hear your ideas on what bachelorette party supplies made your party memorable so we can post them for others to enjoy. Email us at bachelorette@bachelorettepartyfun.com. We look forward to hearing from you and will only use your first name and last initial if you allow us to.

Pin the Macho On The Man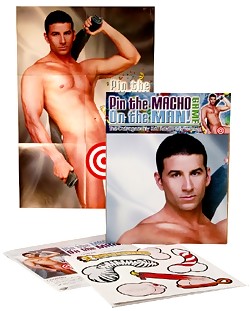 A bachelorette party celebration has traditionally been symbolized with many types of supplies and favors along with some really fun last night out venues and games. One of the most popular items is the Pin the Macho On The Man. Just like the child's game Pin the Tail on the Donkey, this game is the adult version that includes a poster of a good looking guy (Richard Gere look-alike from Officer and a Gentlemen to us) in all of his glory with a bulls eye covering his privates! The game comes with cute cutouts of different cartoon willies with different sizes and shapes that you can cut out and use as game pieces. They are very funny shapes and sizes.

Just like in the traditional game, each girl will be given a cut out willie, blindfolded (make sure to bring a sash or scarf with you so you can blindfold the bachelorettes) and spun a few times to then find her target on the board. Also bring double sided tape or tape rolled in a circle so you can make the pieces stick on the poster. This is one of those bachelorette party supplies that really works well throughout the last night out since you can use it as a game but then use the pieces as decorations by placing them on the walls or tables. The poster makes a great decoration for the party, whether you are out of town or at a home festivity.

Pin the Macho on the Man has been a favorite game for bachelorettes as far as we can remember and is almost ordered in more than 50% of the orders that have gone out by us (10,000 orders). We highly recommend this popular item and believe it will stand the test of time as one of the best bachelorette party supplies. What is fun about the items is that you can also make up a game with the Pin the Macho by having everyone write dares on the willies and the closest 3 girls to the target get to choose who will do the dares they wrote on the game piece. We have tons of dares you can find for free at our Scavenger Hunt page.

Check out our other bachelorette party supplies which will give you other great ideas and have a ball at your bachelorette bash!

Spin The Pecker
We find bachelorettes always trying to find bachelorette party supplies that are easy to take with them and play anywhere. One of the most popular items is the Spin the Pecker game which fits the category of easy and fun! This spinner game has a spinner in the shape of a pink willie and has 8 categories you may land on.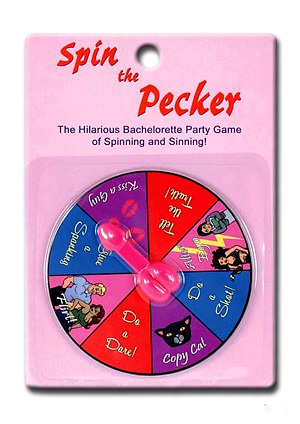 The way to play is to let the bride-to-be spin first and see what she lands on. The choices are:

Kiss a Guy - This would of course mean to have a girl find a guy to kiss. What makes the game more funny is to come up with different characteristics of a guy that she needs to find (i.e., bald, red hair, rock star looking, nerd). Have some fun with it.

Tell the Truth! - Just like the classic game of truth or dare, have someone ask her an intimate question and let's see how the bachelorette answers.

Do a Shot - Have a guy or one of the girls purchase a shot for her to down. If she does not drink, make it a virgin version of the drink.

Give a Spanking - Have her find a guy or girl to give a spanking to. Make it fun and dramatic.

Copy Cat - Have two girls go out (get one of your crazy bachelorettes) and have the girl who spun this to copy what she is doing. You can also play this like having the girl imitate someone at the bar or restaurant you are at for 2 minutes.

Do a Dare - Easy enough; come up with some of our favorite bachelorette party dares prior and then choose from the list you have. You can also use our list we have here.

Alter Ego - Do something wild or mild, depending on whatever the opposite of your personality is. Live like a rock star, catholic school girl or dancer - whatever is opposite of you and have fun with it.
Back to Home Page * Most Popular Bachelorette Party Supplies