We love when Hollywood helps promote the fun associated with the wholesome and classy Bachelorette Parties + Discount Bachelorette Party Supplies!!
Well, we just go the notice that the new movie Rough Weekend (YouTube Link) set for release on June 16, 2017, is a new movie starring Scarlett Johansson, Kate McKinnon, Jillian Bell, Ilana Glazer, Zoë Kravitz,  
The movie takes place down in Miami, FL, where 5 friends with busy lives, get together to celebrate the upcoming weeding of Scarlett's character, along with all the bachelorette party craziness the movie has a twist, at the house they are staying at, the male stripper coming to entertain, ends up dead.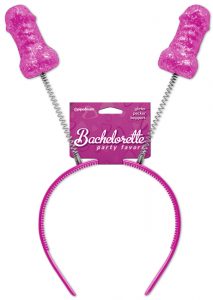 We just saw a forwarded picture from the film which shows Scarlett Johansson wearing one of the fun bachelorette party supplies we have stocked for years, Pecker Boppers – and with the 2017 Bachelor & Bachelorette Party season just getting its kick off, we are sure this movie is going to be hit!!  Who doesn't want to be a 'Fly on the Wall" at one of these girl's nights out!
And trust us, some of those Bachelorette Parties can surpass any craziness you might think from even the best Bachelor Party shanannagans!!
If you are hosting a Bachelorette Party this year, this might be a great movie to catch with all the girls, maybe for things 'Not' to have happen!  😉
We were lucky enough to have a little part in the movie Bridesmaids, and though the bachelorette party portion of the movie was short, was a fun experience.
We are celebrating our 16th year in business, starting back in 2001 – some come and visit and check out all the fun Discount Bachelorette Party Supplies, along with tons of party favors for LGBT and Bachelor Parties too!!
We have tons of fun and free Bachelorette Party Ideas, Games and even a Bachelorette Party Male Stripper Directory to help you find some great entertainment for the night, just don't reenact the plot of this movie with these hard working guys!!   🙂
     www.BachelorettePartyFun.com
Save
Save
Save
Save
Save
Save
Save