Happy Holidays!!
We want to wish everyone a Very Happy Holidays, is it really almost the end of 2016???  Where has the time flown??
We are very much looking forward to 2017 and all the good things it will bring!!
The Holiday Season, Christmas, Chanukah, Kwanza , and New Years Eve are such a great time for weddings,  yes those always classic White Weddings – so if you are planning a bachelorette party either in the next few weeks or starting to plan for one just after the new year, come and check us out!!
A great selection of Discount Bachelor & Bachelorette Party Supplies, Favors, Decorations, Candy and so much more + we have tons of pages of Bachelorette Party Ideas & Information to help you plan a party for the Bride to Be!!  www.BachelorettePartyFun.com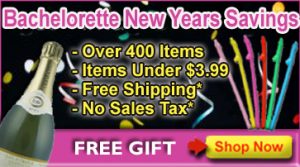 Save
Save
Save
Save
Save
Save
Save
Save
Save
Save
Save
Save
Save
Save
Save
Save