Pole Dance Lessons, Exotic Dance and Pole Fitness by Fawnia!
Fawnia Mondey-Dietrich's Pole Dancing Las Vegas, NV
Becoming one with the Art of Exotic Dancing since 1995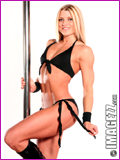 Fawnia is one of the most famous instructors for teaching you and the bachelorette's how to pole dance or exotic dance. This new craze is a great way to have fun with the girls while also getting a work out before going out on the Vegas strip!
Now it's your turn to try what every woman around the globe is talking about. Pole dancing for fitness and fun! Previous performed only in adult clubs, swinging around a brass pole has been around for decades; now these days many celebrities are getting involved. Teri Hatcher, Natalie Portman, Carmen Electra, Sheila Kelley, Daryl Hannah, and even Oprah, Pamela Anderson, Jennifer Aniston, Angelina Jolie, Goldie Hawn & Kurt Russel, and many more are rumored to havestripper poles in their homes.
Many own Fawnia's Pole Work, volume 1 DVD. Natasha Henstridge, Paula Abdul, Joely Fisher, Allison Munn, Traci Bingham, Adrianne Curry, Ashley and Courtney Peldon , Adrienne Janic, Shannon Elizabeth, and James Wilder to name a few.
I was born in 1975, in the small town of Kamloops, BC Canada. In 1983 I made the move by camper trailer to the beautiful city of Victoria, BC. My interests growing up included running, art (drawing), theater, and dancing.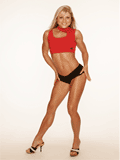 In Oct, 1994 at the age of 19 I began my career as an exotic dancer. Seeing the women on stage doing the most amazing moves on the poles inspired me to want to learn. I asked the staff where were the Exotic Dance School was located, to learn pole work. Their reply to me was "There is no school, you just learn while you are on stage." I couldn't believe there wasn't a place to go, and learn how to do pole work, walk, dance, and crawl; do everything that makes someone a great exotic dancer. Just two months after I learned my first move, "The Fire Man", I purchased a brass pole from a metal store, and started teaching. The date was Dec, 1994. While the rest of the world was going about their business, I opened the world's first Exotic Dance School and produced the instructional DVD: Pole Work, volume 1. The first of its kind, making me a pioneer of what's now America's latest fitness craze, pole dancing for fitness!
I have appeared on the cover of Las Vegas Life, Muscle Magazine International, Body of Science, Canadian Health & Fitness, Body Talk and in Muscle & Fitness, Oxygen, Flex, American Curves, Planet Muscle, Ironman, Natural Bodybuilding & Fitness, Ms. Fitness and many others including Playboy's special editions 4 times, and Playboy's Best of Canadian Girls calendar.
In March, 1996 when I retired from dancing, I began studying acting for film and television at the Screen Actors Studio with David Simmonds. My passion for performing soon lead to work on The X-Files, Millennium, and in movies such as Profile For Murder, My Fathers Angel, Nationals Lampoons Strip Poker, and the lead in both Dakota Bound and Cries of Innocence.
In March, 2005 while at the Arnold Classic in Columbus, Ohio I met my husband Damon Dietrich. Living in Maryland, over 3000 miles away, we decided to marry in July and in October, 2005 we relocated to Las Vegas, NV.
At my Pole Fitness Studio I am offering Classes, Las Vegas Getaways and Certifications. Between teaching and running my online business I am preparing for figure competitions. My goals are to earn my pro card in figure, and continue teaching women worldwide The Art of Pole Dancing.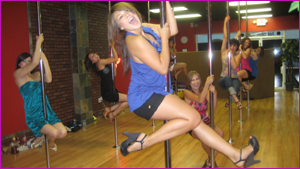 About Fawnia Mondey: A pole dance instructor, fitness model, writer and actress, Fawnia began pole dancing in Oct, 1994 and lost 30 pounds in the first four months. She began teaching during this time when she discovered there were no teachers in her area, of Vancouver, BC Canada. Several years later it became evident that act of teaching pole dancing was just starting to surface.
In 1998 Fawnia self produced the worlds first instructional pole dance video (Pole Work, volume 1) making her a pioneer of what's now America's latest fitness craze, pole dancing for fitness.
In 2005 Fawnia relocated to Las Vegas, and is teaching pole dancing and pole fitness. Learn basic pole dancing techniques and get in the best shape of your life as you advance to more challenging moves. Fawnia's instructional products and dance poles are inspiring tools reaching women from all around the globe.
"Exotic Dance School represents my dream of what every woman can be: sexy, confident, beautiful, and ultimately - powerful."
Click Here For More Information!
Click on the other links above to learn more about the classes or feel free to email us at bachelorette@bachelorettepartyfun.com. Give us your name, email, and/or phone number so we can contact you with more information about this wonderful entertainment!