Bachelorette Party - New York Male Strippers and Entertainers

New York strippers are the finest in the world! We have brought to you the best in New York male strippers entertainment below. Whether you are with a bachelorette party or just out on the town with the girls, check out our New York male strippers!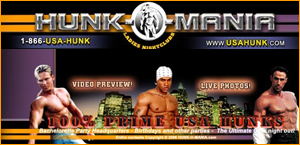 HUNK-O-MANIA in New York City is not just a Male Revue! It's is a high energy, audience participation show that caters to women and what they want... This is the nightclub to indulge a bachelorette party fantasy and have a girls night out. Male strippers - massage hunks and hunky waiters will cater to your every need and make your night exciting and fun.
Enjoy our intimate setting that's "Up Close and Personal". Come alone or with friends...They will make you feel special! Seating is limited, buy your tickets now before they sell out! Can't make the show? Get a "Rent-a-Hunk to-go".
Click here to visit the Hunk-O-Mania website
or call 1-866-USA-HUNK (live person).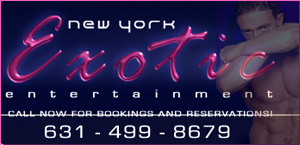 Are you ready for the ultimate in upscale bachelor party adult entertainment? From the girl-next- door to the centerfold and adult star, NY Exotic Entertainment offers the hottest female dancers in the business. You'll find their entertainers in magazines, movies, and even talk shows.
Serving the Tri-State area (other than Long Island), book your next event with NY Exotic Entertainment! Sit back, relax, unbutton your collar, loosen that tie, and call to book your party today with NY Exotic Entertainment.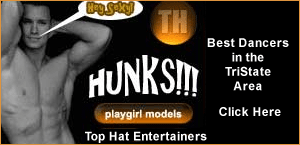 TopHat Entertainers - New York's Top 10 Male Strippers - If you are looking for the best New York male strippers - New York Chippendale style strippers for your bachelorette party entertainment, you have found the best - TopHat Entertainers! As you can see by the male stripper pictures on their page, TopHat has the finest in quality New York male strippers and adult entertainment for the bachelorette party!
These hunks are PlayGirl models in Chippendale style shows and know how to really entertain the girls for a memorable party! If you are celebrating a bachelorette party, birthday of any age over 18 or even a girls night out, they offer an unlimited supply of sexy hunks in your favorite costumes! For 24/7 Service Call: 732-679-7844 OR 201-951-9159