Bachelorette Party - Las Vegas Male Entertainers - Sincity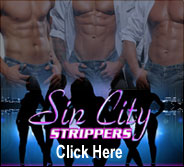 If you're planning to have your bachelorette party in Las Vegas, then Sin City Strippers is definity your choice for male entertainment.

Sin City Strippers offers the hottest male entertainers in Las Vegas, featuring the "MEN of Las Vegas" male revue, and will make sure the bachelorette and her guests have a really hot night!

Sin City Strippers has gathered only the best looking, best built, most talented and experienced male exotic entertainers in Vegas! They will provide you memorable entertainment and we highly recommend them.

Rates start at just $100/half an hour and $150/hour. Have a special request? We carry 100's of costumes to suit your party needs. Plus the "Hunks" to go with it!

Click here visit their website



If you have any questions, please call us at (702) 433-5793
email them at lasvegashunks@msn.com.