Bachelorette Party - Mississippi Male Strippers and Entertainers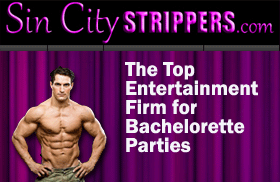 Having your last night out in the south is always a great time as there are so many things you can do as for bachelorette party entertainment. If you are going to choose a male dancer to partake in your plans, check out Sin City Strippers.

They are an experienced agency that has some of the hottest men the south has to offer. Dress them up as the bride-to-be's favorite celeb and let the fun begin. Let them know that Bachelorette Party Fun sent you and they will throw in some fun and be on their best behavior as they want you giving them rave reviews to us!

Some excellent ideas to do with the bachelorettes prior to having the male dancer come include:

Go to a blues bar in town like The Ground Zero Blues Club (owned by Morgan Freeman)
See a sports or music event early in the evening and then for a night cap with Gentlemen Strippers
Visit the Dixie National Rodeo if it is going on during the time you are in town

They offer an amazing show and are respectful to the bachelorettes
They are a seasoned company that is responsible in making sure your entertainment goes well
They take requests as to what you want in a male dancer
Their dancers are models and former playgirl playmates and enjoy their job
They show up on time and don't overcharge you for their entertainment

Visit one of the awesome Mississippi casinos around town. Whether you go to the bars, pubs, concerts or pamper you and the girls at a spa; make sure it is what the bachelorette wants to do and get a male dancer that fits her personality (sassy or more classy for a dancer). You can reach them at: (800) 734-8386.