Bachelorette Party - Louisiana Male Strippers and Entertainers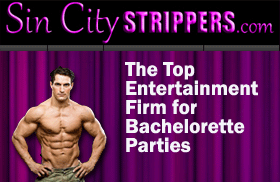 Louisiana male strippers are the finest in the world! We have brought to you the best Louisiana male strippers below. Whether you are with a bachelorette party or just out on the town with the girls, check out our Louisiana male strippers section below:

The Big Easy is one of my favorite places to have a Last Night Out! What better than to add Louisiana male strippers to the equation of the good time for all the girls to enjoy. Whether you are in Baton Rouge, New Orleans (namely Bourbon Street) or any other fine town down South, going out for a night of great music and drinking, then arriving at your final destination to have a male dancer strut his stuff will liven up any party!

Gentlemen Strippers have been in business for a long time, offering the finest in New Orleans bachelorette party entertainment. Their dancers are models, former Chippendale dancers and great looking hunks to give you the party of a lifetime. They are very respectful, dynamic and want to make sure you and the girls get your requests answered. Do you want them dressing up in an outfit, as the bride-to-be's ex boyfriend or as a favorite rock star, these Louisiana southern boys will show the way to a memorable time.

Let them know that Bachelorette Party Fun sent you and they will make sure you are well taken care of. Whenever using any New Orleans male review company, it is important to find out:

How much is each hour/multiple hours of entertainment

Is there a discount for multiple hours?

How does tipping work?

How long does the dancer actually perform?

Ask for your requests of size, eye color, hair color, etc of your male dancer

Do you want a choreographed show or free flow?

You will have a better bachelorette party in Louisiana if you get all the questions answered to know what to expect and how much money to bring! Have a great time and remember you are in one of the best places to have your bachelorette party since Louisiana is one of our picks for an excellent destination for your last night out! To contact Gentlemen Strippers of Louisiana, you can reach them at 800-203-8850 or email them at gentlemenstrip@aol.com