Las Vegas Male Strippers - Bachelorette Party Strippers Nevada


Las Vegas strippers are the finest in the world! We have brought to you the best in Las Vegas male strippers & entertainment below. Whether you are with a bachelorette party or just out on the town with the girls, check out our las vegas male strippers section below:




SIN CITY STRIPPERS
Las Vegas Male Strippers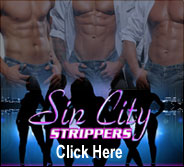 If you're planning to have your bachelorette party in Las Vegas, then Sin City Strippers is definity your choice for male entertainment. Sin City Strippers offers the hottest male entertainers in Las Vegas, featuring the "MEN of Las Vegas" male revue, and will make sure the bachelorette and her guests have a really hot night!


Sin City Strippers has gathered only the best looking, best built, most talented and experienced male exotic entertainers in Vegas! They will provide you memorable entertainment and we highly recommend them, and many time if you let them know you found them through us, they really take care of you!! ;-).
MEN OF SAPPHIRE
Las Vegas Male Strippers

Men of Sapphire - For any bachelorette party, Men of Sapphire at Sapphire Las Vegas is the place, featuring the largest amount of sexy las vegas strippers you can find in an amazing Las Vegas Male Review like no other!



Sapphire Las Vegas. Enjoy one of the top male review shows in Las Vegas as the Men of Sapphire bring it on an make an unforgettable bachelorette party! It's down to your final few days as a single, independent woman and you want to celebrate them guilt-free with a limo-full of your most loyal friends. It's your Bachelorette Party!



CLICK HERE FOR MORE INFORMATION!




Save
Save
Save
Save
Save
Save
Save
Save
Save
Save
Save
Save
Save
Save
Save
Save
Save
Save
Save
Save
Save
Save
Save