Bachelorette Party - California Male Strippers - Hollywood Men
*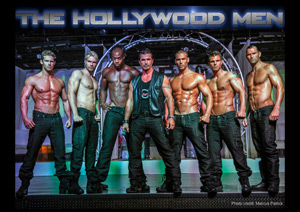 THE HOLLYWOOD MEN*
THE HOLLYWOOD MEN is L.A.'s best and only, upscale, fully choreographed, male exotic show for ladies! Southern California's #1 Birthday and Bachelorette party destination now takes place every Friday and Saturday night in the heart of Hollywood.
 
Most women prefer quality over quantity; we deliver both! The most quality performers, the most tastefully provocative show for ladies in Southern California, and an upscale environment in which to celebrate your birthday, your Bachelorette's final night of freedom, or just a ladies night out! At any of our performances, you can expect a high-energy, tastefully provocative, and fully choreographed stage show featuring only the best looking and most talented male exotic entertainers in the business!
 
*"Check out their packages"*

Whether you're looking for a place to celebrate a birthday, bachelorette party, or just a girl's night out, look no further!! We offer specials created specifically for the guest of honor. Treat her and yourselves to the best!! Mention www.BachelorettePartyFun.com when you make your reservation and every lady in your party will receive a free 18-month Hollywood Men calendar at the show!
 
*Visit the Hollywood Men website!*
or call their reservation hotline for details: (818) 845-6636.



For all performance information, to see video clips and pictures of the cast, and to make reservations or obtain additional information, visit our website or call our reservation hotline @ (818) 845-6636. Never settle for less than the best, The Hollywood Men, it's Viagra for Women!
Back to California Male Strippers