Bachelorette Party Themes - Page 2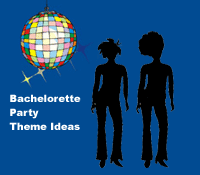 Additional Bachelorette Party Themes - If you want to be unique with your party and add a little more festive feel, we have listed our top bachelorette party theme ideas to use in making your bachelorette party special.

Remember to give the bachelorette party guests enough time to plan on what they will wear and not tell them right before the bachelorette party so they have time to get creative and plan cute outfits.

Here are additional bachelorette party themes that you can choose from. Adding a theme to the party always adds more memories and great bachelorette party pictures:



14) Bachelorette Trailer Trash - Wear your best jeans with tank tops and have your favorite blue stripped beer. If you don't already have tatoos, get some of our cute bachelorette tattoos and lower back ones. You will have heads turning when you and the bachelorettes rock the house as trailer girls.

15) Superheros - There is nothing more sexy than bachelorette superheros. Choose from Wonderwoman, Catwoman, or characters from XMen. You will get heads turning and lots of laughs besides feeling powerful! Make up your own superhero characters and wear bachelorette name tags with the names of your character.

16) Cowgirls - Yippie Chi Yay.Dress up as sexy cowgirls and ride the bull. Have some fun with cute pink cowgirl hats, leather and cute little skirts. I am sure you will find some young stallions and mustangs when you go out on the town in these outfits!

17) Favorite Celebrities - Dress up as your favorite celelbrity or character from a movie. Wear name tags and see if everyone can guess who you are. This makes the bachelorette party much more memorable and fun for the girls.

18) Secret Service - Agent 99, you have a mission to protect the bachelorette. Have all the girls dress in sexy black outfits, along with sun glasses and ear buds. Have them stand around the bachelorette when she enters a building, bar, dance club, restaurant and watch heads turn! Get the bachelorette bubble blowers or pecker poppers and everyone will have a great time!

19) Mental Ward - Dress the bride to be in a straight jacket and have all the girls act as if they are mental ward nurses. You will get lots of heads turning and laughs throughout the night. Write bride-to-be on the straight jacket and dress her all in white (with teased up hair and bad makeup). Lot of bachelorette party fun!

20) Cheerleaders - Everyone loves cheer. Relive your high school days with cheerleader outfits and pom poms. You can place "Bridesmaid U" on the bachelorette party tshirts. Have the shirt of the bride state "Bride U" and lead in some songs!

21) Taking The Plundge Bachelorette Party - Anchors away with this theme as the bride can wear the captins hat and a cute sailor-colored outfit while the bridesmaids can wear regular sailor hats and cute sailor colored out fits too. It would be like the bride is "taking the plunge".

22) Crazy Wig Party - Go shopping and pick up some crazy looking wigs for the bachelorettes. See who can find the wierdest, sexiest, and funniest hairdos. Give out bachelorette party awards and have some fun! Go out to some bachelorette party bars and wear your new addition and get wild!

23) Jersey Party - Get all the bachelorettes to wear their favorite sports team jerseys. All the bridesmaids will look cute in their team colors as well as everyone being comfortable. Go to your favorite sports bar and make sure to take lots of cute pictures. Have a cute bachelorette party saying on the Jersey shirts.

24) Mad Men Party - Get the girls all decked up in late 1950's and early 1960's clothing. Wear your favorite Margaret or Elizabeth outfits and have a classy party. Get some of the long cigarettes and cute makeup. Have fun by getting an antique bachelorette party limo. You are sure to have a great time.

25) Alternative Party - Get goth, punk and all leathered up with some great white makeup and visit some dive bars. Go to an underground club and have fun being a bad girl. Be someone else for the evening and have the bachelorette dress in her favorite leathers. Get a bachelorette party blow up doll dressed up in alternative clothing.
26) Barbie Mafia - Have all the bachelorettes dress up as Barbie in her different make up and outfits. Design bachelorette party shirts that say Barbie Mafia on them! Get all glitzy and glam which will be a lot of fun and make for a memorable bachelorette party. Check out our blinking rings and bachelorette blinking tiaras.
27) Twilight Eclipse Bachelorette Party - Have all the bachelorettes get vamped up and go to a showing of Twilight Eclipse (even the new one that is coming out). Go to a bar all dressed up in your hot outfits and make-up (even fangs) after the show. You will have a great time and have a very unique bachelorette party!
28) Power of Pink Party - It is always great to give of yourself, especially when you are having fun at events like bachelorette parties. A great way to party is to all dress up in pink and raise money for breast cancer by collecting money during the bachelorette party, especially from boys who will give! Make it fun and use mardi gras beads. It will make for a very special bachelorette party!
29) Lady Ga Ga Party - How crazy can the bachelorette party get when you all try to out-do each other's bachelorette party costumes when you announce in the bachelorette party invitations that everyone should dress up in bachelorette Lady Ga Ga attire. You will be sure to get heads turning. Play Ga Ga songs as you strut your stuff with you and the bachelorettes.
30) Over the Top Bachelorette Party - Go crazy on reasonable bachelorette party supplies to have a party like no one else! Get bachelorette party decorations that can be spread out. A great idea is to get bachelorette party games that can also be used as decorations! Show the bachelorette you care with dressing her up - sky's the limit!
31) Jersey Shore Bachelorette Party - Start your fist pumping as you and the girls do the stereotypical Jersey Shore dress, staged bar fights and drinking out of red solo cups! Have some fun and play your favorite characters. Who will be Snookie?
32) Dress as dudes - What fun it is to play guys by dressing up in pants, shirts, ties and slick back your hair. Have the bachelorettes wear fake moustaches and have some fun with this great bachelorette party theme.
33) Arabian Nights - Have some fun and wear some classic middle eastern/ Arabian dress during the bachelorette party while showing your mid riff. Wear a belly ring to show some sassiness and have some fun belly dancing or pretending to, bringing some classic Arabian music to the last night out.
34) Kilt it - Bring out the Scottish in you with some kilts and half tank shirts to get everyone looking. Do your favorite lucky charms voices as you practice Celtic dancing through the evening. Danny boy will be so proud of you!
35) Bachelorette Party Bondage Is In - Wear your favorite leather outfits and bring in some chains, spikes and stockings. Have some fun looking the part with press on tattoos which all the girls can wear unless they have their real ones already!