Bachelorette Pot-Luck Party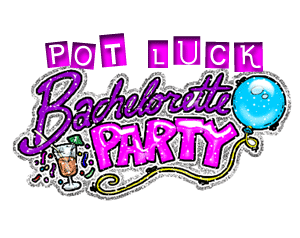 If you are having a home party this bachelorette party season and are getting the girls together for a last night out soirée, we have the tips for you in throwing the best in bachelorette party home bashes! A fun way to celebrate the bride to be's festivities is to get all the girls to participate in a pot luck extravaganza. I am sure many of the girls have their favorite dishes they would like to show off just like Rachel Ray. This is a great way for the bride and the bachelorettes to enjoy a variety of tasty treats while saving a lot of money! Below we have listed the most helpful steps in helping coordinate the event:

Bachelorette Party Invitations – Make sure to get out the bachelorette party invitations early and let everyone know where the last night out will be as well as the theme of everyone bringing or making something. We have attached a bachelorette party sign-up sheet which you can download in helping everyone place what they plan on bringing so you don't have doubles or triples of the same item.
Tableware - As soon as you know the majority of what is being brought as for food, make sure someone will be bringing the bachelorette tableware. Make it festive and fun, using colors that go with any theme you choose. The favorite colors of bachelorettes are pink, purple, black, red and white. If you are choosing a bachelorette party theme,
include it with the tableware. Add accents with confetti and balloons.

Bachelorette Supplies – Just as important as tableware are the bachelorette party supplies to decorate the room with. From mild to wild – classy to sassy, you can find what is right for the type of party you are planning on having. Ask the bachelorette what she wants her style to be as it is her party and she should have some say in how the event flows.

Bachelorette Party Games – A potluck is a great and creates a focus and bonding among the girls which many times is lost when partying at a club or large venue. Just as important are the bachelorette party games that can be played and spread out throughout the party. It is also important to choose bachelorette party games that is right for the group as there are so many to choose from. Spread them out during the party as to not overdo it with games. Keep score and make it a little competitive which can be really fun. Choose teams but make sure it stays fun and not frustrating for the girls. A cute game is a new iPod bachelorette party game which has all types of activities and is easy to take out and pay on an iPhone or iPad during the festivities. Besides games, a fabulous idea is to have an exotic dance lesson instructor come over and teach the girls a few snazzy moves.

Bride-To-Be Helpers – Have a few girls who volunteer get to the bachelorette Pot-Luck party early so they can help with setting up. Anything that needs to be cooked and is not cooked prior should also be done on the early side so that bachelorette should also come early. Make sure the person with the decorations and tableware drops off or comes over early to help set up the room. The bride-to-be should not be there early or she will see the set up which will not then be much of a surprise! If someone is going to cook on a grill, make sure the house has one. It is also important to see what types of cooking plates are needed.

Picture Taking Ops – Make sure to have some digital cameras ready for cute bachelorette party pictures that can be taken throughout the evening. No inappropriate pictures should be taken if you are having an exotic dancer come over.

Movies For The Girls – A fun idea is to have your favorite chick flick playing in the background for those who want to watch and sing along or say movie lines to. Have someone also bring an iTunes speaker or something that plays music with an appointed person for the bachelorette party music.

Bride-To-Be Servers – When the party starts, it is great to appoint some girls to help in serving everyone or at least making sure that everything gets out. Help the person whose house it is as they have given their place to throw your last night out and should also be the server. Make sure there are enough napkins, cups, tableware, plates and straws. You can also get table cloths and decorations to place on the table to make it festive.

Words of Inspiration and Fun – At some point during the party, have everyone go around and state the most favorite funny or beautiful memory of the bride-to-be and have someone write all of them down. You can take the pictures you take plus the words and make a scrap book as a bachelorette party gift.

Clean Up Crew – Not that it is fun, but it is a must to have a group of bachelorettes willing to help out and clean up after the last night out comes to an end. If you are planning on a post-party, have everyone chip in and clean or come for a post-party the next day so the person whose house it is does not get stuck with the mess.

With some planning, you can have a great Bachelorette Pot-Luck Party with good friends! Most of all, it is important to have a great time and not stress about how the party goes! Everyone gets to have fun and gets kudos for the great buffet!